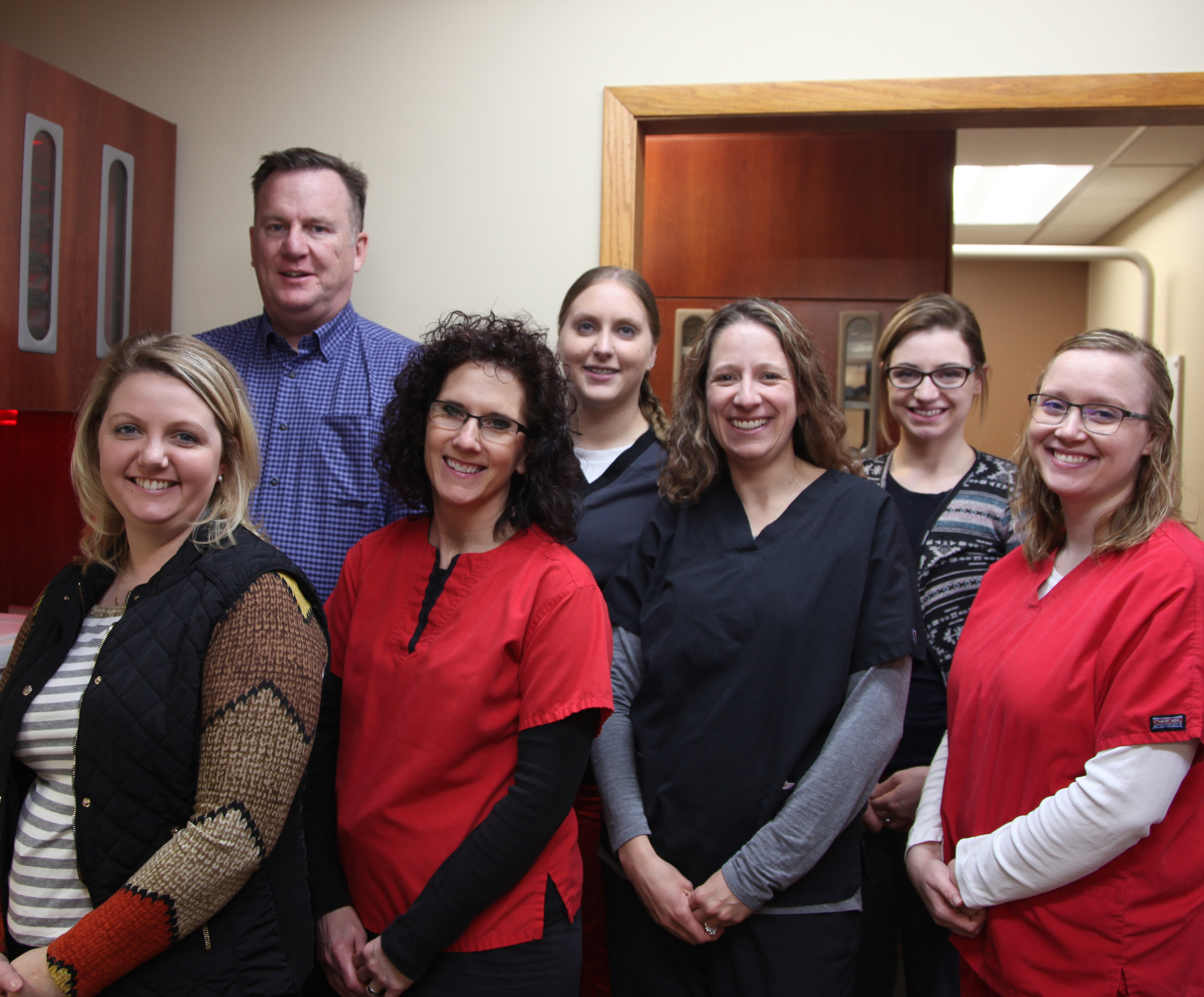 Our Philosophy
We pride ourselves on high quality dental care for the whole family. We specialize in beautifying smiles, maintaining your dental health, and helping you improve your appearance. Our experienced and friendly staff takes pride in keeping your smile beautiful. Our promise to you is that the veneers, fillings, crowns, and bridges we create will look as good as or better than the teeth nature gave you. And to make sure we keep that promise, the products we recommend and use are the highest quality and incredibly durable. You can trust your smile with us.
Our Team
Columbus Family Dental is proud to serve Columbus and the surrounding communities with quality dental care for all ages. We are excited to meet you!
Michael B. Burwell
Dr. Burwell grew up in western Nebraska and has been practicing since 1996. He is a graduate of the UNMC College of Dentistry and has a BS in Biology/Chemistry from the University of Nebraska at Kearney. He and his wife, Sandra, have five children and enjoy the outdoors.
Sam
Sam is a Dental Assistant who has been with our professional team since August of 2014. She has an Associate's Degree in Criminal Justice and is CNA/MA/CPR certified. She loves working with people and the rest of the staff at Columbus Family Dental. She and her husband are high school sweethearts. They have one child and one on the way. Sam enjoys teaching dance in her spare time.
Connie
Connie received her AAS in Dental Hygiene from Central Community College in Hastings. She has been with our team since June of 2003. Connie enjoys working with patients through a treatment plan that takes the patient from disease to health and in many cases, restores their confidence. She is married and has two children.
Ashley
Ashley is our Financial Coordinator and works the front office. She is a 2003 Columbus High School graduate who started with Columbus Family Dental in 2016. Her favorite part of the job is interacting with the patients and working together with our friendly staff. When away from the office, you can often find Ashley attending her children's activities and going to Husker games with her husband, Nick.
Jaime
Jamie is a Central Community College graduate with an Associate's Degree in Dental Hygiene. She began working for Columbus Family Dental in 2009. She is happiest when she can help patients better their overall health by helping them improve their oral hygiene. Jamie enjoys spending time outdoors with her husband and two children.
Kaitlyn
 Kaitlyn is our Hygiene Coordinator and works in the front office. She is an LPN and has been working for Columbus Family Dental since September of 2017. Her hobbies include spending time with her two dogs and camping in the summer.
Brittany
Brittany is one of our talented Dental Assistants who joined Columbus Family Dental in July of 2016. Her favorite part of her job is interacting with the patients. She recently moved to an acreage outside of Columbus and likes spending time with her boyfriend. Brittany enjoys summertime, being outside 4-wheeling and playing with her dog, Bentley.
Contact Us Today!
We are here for you and your family's dental health! Contact us today to make an appointment.